HAIGH-FARR NAMED LEOSTELLA 2022 SUPPLIER OF THE YEAR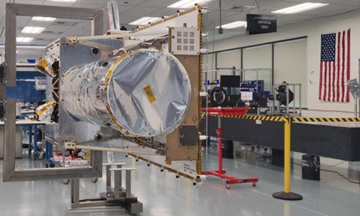 04.06.23
Haigh-Farr, a world leader in the design, development and manufacture of antennas for aerospace applications, has received LeoStella's 2022 Supplier of the Year award. The new award recognizes an industry partner that enables LeoStella to design and develop modern and innovative small satellites for its government and commercial customers.
Haigh-Farr has worked with LeoStella, the Seattle-based, state-of-the-art small satellite manufacturing company, to design and deliver antennas, test hats and supporting hardware for the past five years. The antenna developer has empowered LeoStella to incorporate world-class technology into their satellites to support the mission objectives of its constellation customers.
"We are honored to receive LeoStella's first Supplier of the Year Award," said Norene Farr, Haigh-Farr's CEO. "It has been incredible to watch the company grow and succeed. We have enjoyed the collaborative relationship developed between our companies over the last several years and look forward to supporting them long into the future."
"Haigh-Farr's dedication to quality and innovation enable us to keep pace with the rising demand for advanced small satellites," said Kylie Hall, senior supply chain program manager at LeoStella. "LeoStella has developed a robust supplier network with valued technology providers including Haigh-Farr. Our supply chain network has been instrumental in LeoStella's ability to efficiently and effectively deliver satellites on time, which is critical for our customers."
About LeoStella
LeoStella is a state-of-the-art satellite design and manufacturing company transforming constellation construction by building smallsats cost-effectively and at scale. Based in Tukwila, Washington, LeoStella is a joint venture between Thales Alenia Space and BlackSky. The company was founded to meet the growing demand for efficient satellite development and manufacturing arising from the increasing number of constellations. For more information, visit https://www.leostella.com/.