HAIGH-FARR NAMED A UNITED LAUNCH ALLIANCE SUPPLIER OF THE YEAR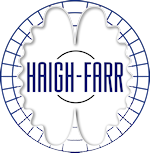 12.16.22
Haigh-Farr, a world leader in the design, development and manufacture of antennas for aerospace applications, has received a Supplier of the Year award from United Launch Alliance (ULA).
Haigh-Farr provides antenna and support hardware for ULA's Vulcan, Atlas V and Delta IV Heavy launch vehicles. Haigh-Farr received the Government Operations Supplier of the Year for their contributions.
"We are proud to award Haigh-Farr with the 2022 Government Operations Supplier of the Year Award," said Robbie Sabathier, ULA's vice president, Government Operations and Communications. "Haigh-Farr is a small, woman-owned business and not only do they have a long heritage of providing high quality hardware, they have consistently gone above and beyond in their efforts to support and advocate for ULA in Washington, DC."
ULA's website indicates that "ULA works with more than 2,000 suppliers from nearly all fifty states, with a $5.9 billion five-year supplier spend and more than $11 billion total national five-year economic impact." Haigh-Farr is honored to be one of 12 suppliers recognized out of a supplier base of over 2,000!