HAIGH-FARR APPOINTS BRIAN MOLEN VICE PRESIDENT OF ENGINEERING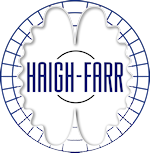 10.11.22
Haigh-Farr, a world leader in the design, development and manufacture of antennas for aerospace applications, is pleased to announce that Brian Molen has been appointed Vice President of Engineering.
For the last seven years, Brian has served as a Senior RF Engineer at Haigh-Farr facilitating the design, build and test of antennas for defense, space and commercial applications alike. Prior to joining Haigh-Farr, Brian held RF/Antenna Engineer positions where he designed and developed antennas for defense and commercial applications including Ka and Ku Band Phased Arrays, patch antennas for satellite applications and wideband antennas for military communications and jamming.
Brian has a proven record of antenna design excellence and advanced knowledge and experience gained through his two decades in the Electrical Engineering field. His experience and knowledge allow him to understand and facilitate innovative solutions for Haigh-Farr customers.